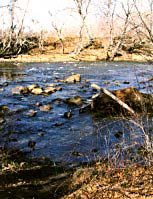 Possible Smith River ford
It is probably impossible to determine exactly where the Brothers actually forded the Smith. The old Fry-Jefferson map of 1751 shows the crossing at the intersection of the Smith River and Blackberry Creek. Years of flooding and soil deposits have erased all traces.

Drive south along the river from Bassett to Stanleytown; turn west over the bridge just past the last Stanley Furniture plant. Once over the river turn left onto state route 57A. Stop at the entrance to Bassett High School and look at the very old home across the street. This is Hordsville and it sits on a knoll near the river. It was occupied originally by the Hairston family. Somewhere near Hordsville stood Hickey's Ordinary or store. Mr. Hickey was very well known. In fact, present day route 57 from this spot to a point northeast of Chatham, Virginia was originally known as "Hickey's Road". Just after the Brothers crossed the river ...